Let's face it… our laptops are home-bodies. They like it here at DA. We have stuff like printers, password databases, and other really way cool systems. So while your laptop has been enjoying it's time away at your house, it really wants to talk with all it's friends back at DA.
You will find a new application on your Macbook named FortiClient. This is a VPN software that will create a secure tunnel back to DA. When connected, it will allow you to connect to specific services that are important to your laptop.
The VPN will allow you to connect to our local domain to helping NoMAD keep your password in sync. We may even add additional services (like printing) in the future.
You will need to connect the VPN if you are away from the school network and need to change your password. If the VPN is connected, then NoMAD will be able to do it's job to update the Macbook local account password and keychain.
To Connect to the VPN
Look for FortiClient in the Applications folder and launch it.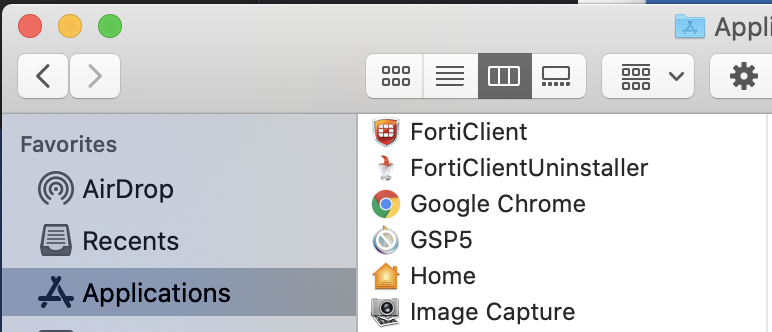 The connection should be already configured at the Remote Access window. Login with your DA username and Password.
Now that you are connected, you can safely change your password remotely. Just follow the steps to change it with NoMAD.