Today several new updates were made available in Self-Service for Microsoft Office, Pages, Numbers, Keynote, and much more.
You can install the updates through Self-Service anytime over the next 7 days.  After 7 days, they will install automatically.
As a reminder, here are all the ways you can apply software updates:
Security Updates to macOS
This includes small patches and security updates to the operating system.  These updates can be applied using the "Check For macOS Software Updates" policy on the Self-Service featured page.  You will have 14 days after release to apply them on your own time.  After 14 days the updates will install themselves.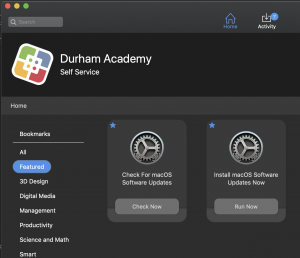 Updates to Applications
Some common DA applications will be updated through Self-Service.  This includes things like Word, Excel, Pages, Numbers, Firefox, etc.  You can find these updates in the Activity Tab of Self-Service.  You will also be notified daily when they become available.  If you do not apply the updates in 7 days, they will install automatically.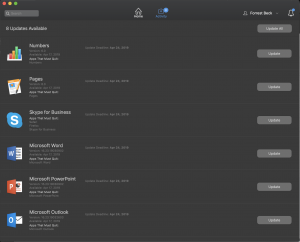 New Versions of macOS
About once every year or two, Apple will release major updates to macOS.  Usually this adds big new features to the operating system.  If you are not on the latest release of macOS supported by DA, then you will have the option to upgrade in Self-Service.  These updates will not apply automatically but it is strongly recommended.  Usually you need to allow about 45 minutes for the update to complete.