As a part of our ongoing work to enhancing security, we now have an updated process for Time Machine Drives.
Starting today, all newly setup Time Machine Drives will now be encrypted.  By encrypting your backup drive you can feel safe knowing that only those with the key can view the data stored on the drive.
The setup process remains the same with an added step.  You will continue to setup your Time Machine drive using the Self-Service app.  The new step will be outlined below.
This new process will encrypt all future TimeMachine drives.  If you have already setup TimeMachine using Self-Service, you can opt to run this setup again on your current backup drive.  This will delete your old TimeMachine drive and set it up again as an encrypted drive.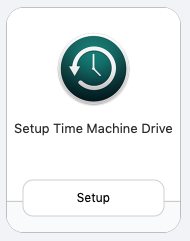 What is New?
During the setup process, you will be given a key that is used to connect the drive.  Without this key, you will not be able to backup to the drive.  Don't worry, you will only need to remember it once. We will also have a copy of the key in our management system in case you loose it.  Once you get the prompt below, capture it with a screenshot or a photo on your camera.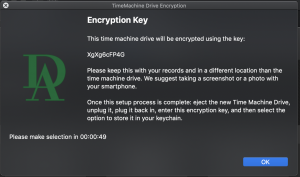 When the setup process in Self-Service is complete you will need to perform the steps outlined in the message.
Eject the Drive by dragging it to the trash can.
Unplug the drive, wait a few seconds, then plug the drive back in.
You will be prompted to enter your encryption key. Enter the key and make sure you select the option to save it in your keychain.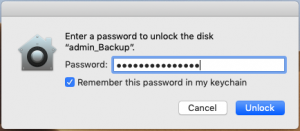 And that's it.  Your ready to begin your first "safe" backup!