To ensure we are always providing you with the most secure platform, we now require all Macbooks upgrade to 10.14.5 by Jul 19th.  There are a few exceptions to "all Macbooks" based on your role and the model of Macbook you have.  For example, seniors are exempt from this since they will graduate soon.  To determine if you are required to upgrade to 10.14, just check out Self-Service.  If you see the policy below on the Featured page, then you will need to upgrade your laptop by Jul 19th.  Please take 2 minutes right now to open Self-Service and verify if you are required to update.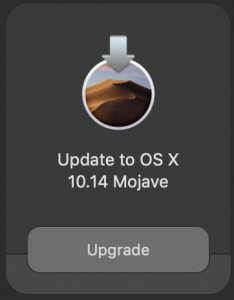 Any Macbooks that have not been upgraded by Jul 19th, will be upgraded automatically.  The forced automatic update will happen without warning so it is very important to upgrade your Macbook at a time that is convenient to you (before Jul 19th).
Now that Game of Thrones has had it's series finale, you should now have some time available on Sundays.  Go ahead and set a calendar reminder to upgrade when all exams and school work is finished.  As always, you are welcome to visit the help desk for additional help.